I am so happy that I am thesising on something that I enjoy and care about. I have known so many people who have ended up hating what they were researching. By the end of the experience, they wanted nothing to do with their topic, their major, or any of their professors. I'm really hoping that this won't happen to me, but as of now, I don't think it will.
As I continue to formulate my thoughts and ideas, my thesis topic will expand, alter, and change. I'm really excited to change along side my project, and I've already noticed that my train of thought has begun to go down several different routes. To spare you all the specific details, my area of research is focusing on queer history in Philadelphia starting in the 1950's until present day. I am focusing on the William Way LGBT Community Center as a physical space in which to anchor my thoughts. I find memorialization through structure a really fascinating topic, so I'm looking into the ways that the physical building has impacted the queer community, as well as the mainstream heterosexual narrative of history.
I've started to accrue large quantities of reading materials, but rather than dreading them, I'm really enjoying them. I'm currently reading Marc Stein's City of Sisterly & Brotherly Loves, and as I get further and further into the text, my interest grows. I think I enjoy being able to recognize the places the text is referencing, as well as the literal queerness of the work.
Today, I woke up at about 6:30am to prepare myself for my long day ahead. It was miserably cold and raining (of course), so SEPTA was late to take me into Philly. I arrived at the center, met the archivist, who then took me upstairs to the archives. I spent the next five hours stationed at a desk and chair pouring over old clippings from newspapers, flyers, meeting minutes, and other paper materials that told the story of how the center came about.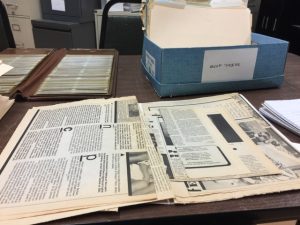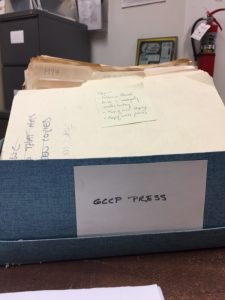 (Above: my work for the day! I went through every single piece of paper in these folders and took detailed notes. I opt for pencil and pen over computer any day.)
I found some really interesting facts about queer Philly that I otherwise would not have known. For example, briefly the center was called "Penguin Place" after a march organizer compared queer rights to giving rights to penguins. Bizarre, but thee community took with it and ran. The history of the community center is long and hard, as one would expect. Having survived governmental pushback, the AIDS epidemic, a fire, and economic issues, the center has made it to a permeant location, housing a library, archive, and community center space.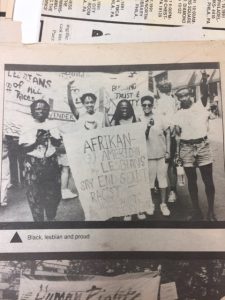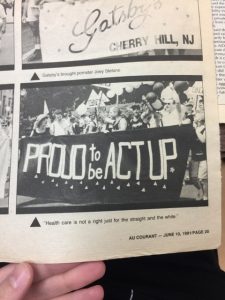 (Above: Images of some artifacts. The top one reads "Black, lesbian and proud!" while the bottom one reads "Health care is not a right just for the straight and the white")
All in all, my research today was a success. Bob, the archivist I met with today, was so helpful and kind. He pointed me in the right direction to begin my work, and would give me more things to go on with. I really appreciate that, as the archive houses a lot of materials, and it would take forever to go through.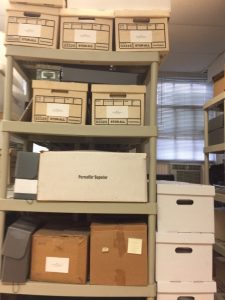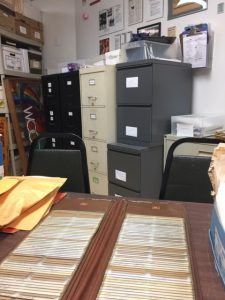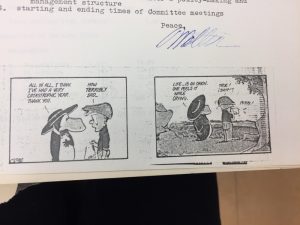 (Above: More of the archive!)
Before I left my research for the day, I had to snag a photograph of my favorite wall decoration, featured below. It depicts two men on a porch in rocking chairs, with a dog. They look like they've lived a long life together. The caption shows one of the men leaning across to the other man, and asking,  "Were we gay?"