It's been a hectic past week! I've been trying to start my final papers for classes now- that way when the term closes I can be focusing on my thesis and getting it published. I'm not sure that I've shared this with you all; my goal for my thesis is to get it published in an academic journal. I want to pursue a PhD in history and teach, and I know that publications are a large part of getting accepted to a well-respected institution, and increase my chances of job prospects, so I'm really going 110% with my thesis. Fingers crossed for me!!!
So with the stress of trying to finish two 15 page papers, proof my thesis, go to classes, study for said classes, working four jobs, and also do things like eat/shower/sleep, you can say that I'm doing pretty alright on the busy front. But I'm as happy as a clam, and am over all quite content with things right now.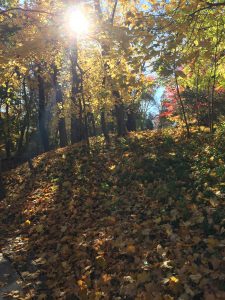 I decided that today I needed to focus on me for a bit. I slept in (until 11!!), did all of my laundry, and took a nice long walk while I called both of my parents. I miss them a lot, but unfortunately for me, I am so busy with school that I don't get to call them as often as I would like. By the time I leave the library, it's normally about 10pm, and I don't want to wake them up.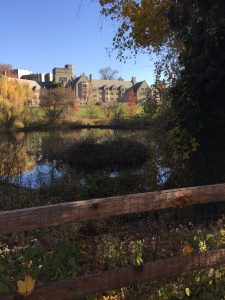 I walked along the back of Rhoads. It's quite pretty behind the pond- I'm not sure that a lot of Bryn Mawr students realize that we have a cute little walking path along the waters edge near the tennis courts, so it's kind of like my secret little path. The leaves from the trees were all yellowing and falling, and with every gust of wind, the leaves would fall down like snow. I also love the sound- you know, the swoosh rustle of the leaves when the wind picks up. It's so calming. If I could bottle that sound and take it with me wherever I go, I would.
Tonight, Pam and I are going to see Mitski! Now that I'm less stressed out, I am happier to reemerge into the world and go on date-dates, rather than just trying to calm down and plan for the next week's work with her close by reassuring me that I have time to finish it all, eating Chinese take out, and sharing space (although I secretly love those dates, too). I really love Mitski's music, so I highly recommend listening to her! Pam knows that I really like her, so when she saw that Mitski was coming to town, she swooped and got tickets (thank you, Pamela).
Here's to 24 homework free hours!