Yesterday was so much fun! Pam and I went to see Weaves, Fear of Men, and Mitski at the First Unitarian Church of Philadelphia. First of all, I thought it was rad as heck that this random church was like, "Yes, let's have these youths have a rock concert in our basement!" Second thought was, "Am I really going to enter into this spooky looking stairwell to get into this tiny basement of this random building?" The answer was yes.
Pam and I met up with our friends Hannah and Meera at the concert. They had gotten up to the very front of the pit, so we are directly in front of the stage. Pam, being smaller than me, and as agile as a cat, grabbed my hand and successfully pulled me through the crowds to get to Hannah and Meera. The people at the venue (in the basement? I mean both are accurate descriptions??) seemed super sweet and just here for the music, which is a lot different than a lot of the other concerts I've been to.
The first opener was a band called Weaves. Having come for Mitski, I hadn't even looked into the openers. But wow- I was blown away. I'm actually listening to "Coo Coo" as I write this. The band, especially the lead singer, had an amazing stage presence and it made me really happy to be in that space jamming out the their music. I wish that I had their set list, because I have this song that they played stuck in my head but I don't have the words or any factor that will help me find it. Guess I'll have to listen to all of their songs to find it…
(Below! Lead singer of Weaves)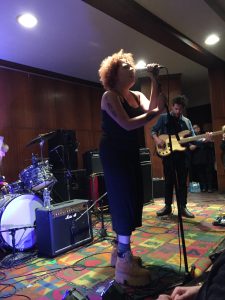 The second opener was called Fear of Men, and they were also really good. They had a different presence, but it was still super enjoyable. Pam and I both agreed that we really liked the style of the lead singer, and the bassist/pianist. From the song that I linked, you would assume that they would have a chiller ~*vibe*~ but that's not it- I wish that I had some way to differentiate the two. I guess that the best I can get to is Fear of Men is spookier? Regardless, it was still really good.
(Below! Fear of Men)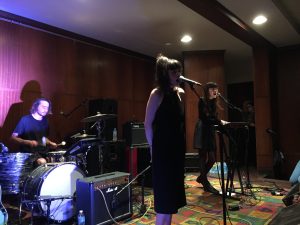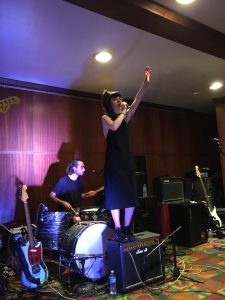 And finally, the reason we came that night- Mitski! I love her music, and Meera has been to a few of her concerts before, so I was really excited to finally see her in person. Unfortunately, I think something was bothering her because she didn't seem to really be into it. But regardless, she still came, and still sang, and for that- it was a fun time. She played First Love/Late Spring so I was a very happy camper.
(Below- Mitski rocking out. I loved her shirt, and lack of shoes).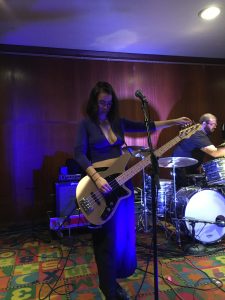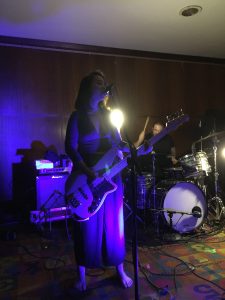 It was such a fun night to get off of campus and enjoy some of the things Philly has to offer. And as per usual, it was really nice to spend time with my friends/girlfriend.