Wednesday night, I went into Philadelphia and Pam and I immediately began grocery shopping. It was really hectic because apparently every other Philadelphian had some last minute shopping that they wanted to do, too. Unperturbed by long lines, rushing mothers, and cranky children, Pam and I braved three separate stores- mind you, in the blustering cold- with nothing but a few bags to hold stuff in. Ending our adventure at Trader Joe's, Pam and I came back to her house for FOUR HOURS OF CLEANING.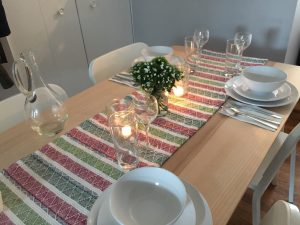 However, it was very much worth it! We woke up Thursday morning, and began prepping the house and the kitchen for the arrival of Kylie, a friend of ours, who was coming from D.C. When Kylie got here, it was so nice to just sit around and talk with each other. For the lunch/dinner (we found ourselves just sitting around the table talking and eating in both of those meal times… so pretty much forever) we ordered a bunch of Indian Food from one of the restaurants that were open around the corner.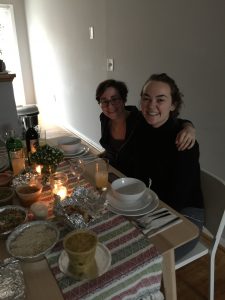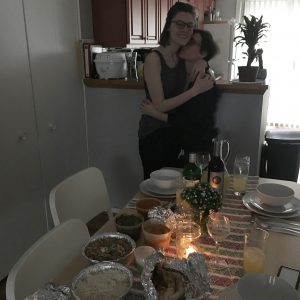 This Thanksgiving was different than other Thanksgivings that I have attended, but it was still one that I will treasure and enjoy. It was a totally different experience having to get everything prepared ourselves (although we cheated and bought the main courses…), but it was still really nice to prepare something for someone else. Plus, we all got to have some much needed quality time together.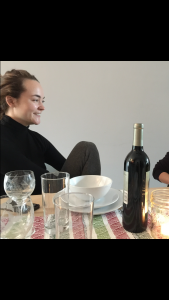 After a day of sitting around, eating lots of good food, and watching movies, Pam and I are enjoying (yet another) day off. We've been watching Broad City, which I have never watched before but I'm really enjoying it. We're also trying to figure out what to get each other for Christmas- which means that she tells me exactly what she wants, and I sit there uncomfortable while she tries to weasel something out of me. I was never good at telling people what I wanted for gifts, but she's gonna crack me.