I love being an HA- tonight the office of Residential Life has put together a movie night, complete with movie theatre snacks. I've talked about how much I love Angie and ViAnna before, but this is another appreciation post. We're watching Mulan, which is one of my favorite childhood movies. They've gotten all of the sofas in Thomas Great Hall together, invested in a projector screen, and are playing it on the wall. It's so sweet to know that they care about us so much.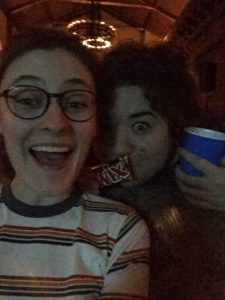 Finals week tends to be a really stressful, especially for the Hall Advisors (and other DLT members!). Angie and ViAnna do an excellent job of doing outreach to all of us and checking in to see how they can best support us. They find that usually, we just need a really big hug (and lots of candy).
Although I usually can't go to all of the HA hang outs, I try to make an effort to go to at least one a semester. This year they hosted a LinVilla apple picking extravaganza, a spooky scary story telling, and a game night. I think it's really sweet that they use different types of ways to try to reach out to us, especially by recognizing that we all have ways that we feel comfortable participating in.