One of my favorite places at Bryn Mawr is the English House. Part of me regrets not being an english major just to have this beautiful place to study (just kidding, I would never betray history like that!!!) But in all honesty, it's stunning and is by far one of my favorite places on campus.
Before I begin, I wanted to address the photos in this blog post- usually I take all of the photos myself, but today, the internet browser wouldn't upload the one's I had taken! Feeling a bit cheated, I had to settle for second best. I put the links of where I got the photos in the captions because, being a good history major, I need to cite my sources. I did manage to upload a single photo of mine, which was of the lecture hall. I love this room because of it's natural lighting, but also because the head of the room faces the woods.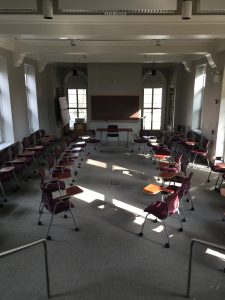 Some times you can see little critters running through the woods, which calls for a halt to class, and a quick surge to the closest window. Last year I saw a deer coming from the woods, and I sat behind the glass in awe, as the animal ate grass and walked through the foliage. It was the ideal study break if I do say so myself.
This is the front of English house. I'm not sure of it's history, but if I had to guess, I would guess that it was once a lovely house. It sure seems like it by the amount of rooms, and the layout. Sometimes I just walk around wondering what would have been used as what. It has a beautiful green room, which the professors and staff keep plush couches and plants in. I think it would have been called a sun room, but being from Florida where every room is a sun room, I can't be sure. I'm not sure if students are actually allowed in that room, but it's too beautiful to not try. I've never actually been asked out of that room, so I continue to use it.
When the weather is good, it's not uncommon for Professors to have class outside. Boasting quite a bit of property, the English house has plenty of chairs and room for students to move around. We used to have a giant tree to shade us, but unfortunately that had to be removed. However, a proper mourning took place, and within it's withered stump, a new tree begins to grow.
If you're ever at Bryn Mawr, stop by the English House, and just wander around. Suggested pre-reading: The House of the Seven Gables by Nathaniel Hawthorne.