One of the perks of having a best friend who does theatre is that you always get to see really cool shows to support them. In this case I am referencing Ellen Cohen, actress and singer extraordinaire. I went to support her last night by seeing Bryn Mawr's original Particular Risk, a piece that was devised by the actors partaking within the show. It was really, really good.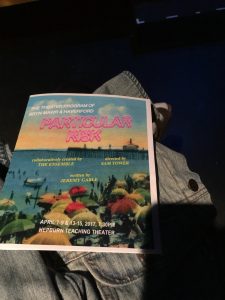 I liked the feel of it- it was kind of like Stranger Things music meets The Breakfast Club style. That's probably a horrible interpretation of it, but to each their own. Regardless, I thought it was very cool and the vibe it gave off was spooky but not scary. Which- to me, an easily frightened audience member- was the perfect balance of "This is spooky and I would like to keep watching" and "This is scary and I think I see an emergency exit."
I thought the set was super cool. It was a raised platform that divided the space into zones, with the actors coming from all around the audience. It made you feel like you were ghosts watching the events unfold rather than a viewer just watching them from the sidelines. I liked how they used both the first and second floors of the Hepburn Theatre- that again created some very cool use of liminal spaces.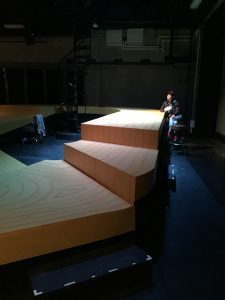 I also want to give a huge shout out to whoever did lighting. They did an excellent job with creating emotions, and highlighting certain parts of the show. Having been an ex-theatre performer, I had a huge appreciation of whoever sat down and planned all of the lighting.
I have a really cool video of Ellen to demonstrate the lighting but unfortunately the file is too large to upload. It's a bummer because Ellen has a beautiful voice, but I'm going to try to paint the picture for you anyway:
Black stage, two spot lights, one on Ellen, one on another character. Ellen emerges from the darkness, and begins to sing. Beautiful.